This work is dedicated to the local people of Corfu, the island that has been home to me for more than twenty years. I feel grateful to everyone who has shared with me aspects of their personal and family history which all together constitute an important part of the "spirit" of this land.
I would like to specifically thank:
Eleni Armeni, Iosifina Armeni, Spiros Ballis, Sia Banou, Eugenia Bekatorou, Natassa Chalikiopoulou, Roula Chirdari, Nitsa Dafni, Katerina Fakiola, Giannis Gasteratos, Eleni Iona, Eleni Kanta, Agathi Sirioti Karavidi, Rozina Kardakari, Spiros Kitsios, Afroditi Kremmida, Joy Konstantis, Sophia Kontari, Anna Koskina, Eleni Koskina, Afroula Kourkoulou, Christodoulos and Katina Koulouridis, Anna Lauranou, Spiros Metallinos, Aristea Metallinou, Spiridoula Metallinou, Alexis Methodios, Fotini Mikalef, Mary Mina, Dimitra Nalbanti, Eleni Neratzi, Spiros Nikopoulos, Spiros Priftis, Spiros Thimis, Mantalena Trianti, Christina Tsirimiagkou, Eleni Tsirimiagkou, Mary Varsaki, Nikos and Aggeliki Vassilakis, Nina Vital, Eugenia Vitouladiti, Adriani Vlachou, Eleni Vorou, Giorgos Zoumbos.
I am deeply grateful to my friend Maria Nikolouzou, a plant photographer who has done amazing work on and with the plants of Corfu and always generously gives me access to any photo I need for my work.
Last but not least, I must especially acknowledge the friends that became family to me, Maria Faita and Eleni Zoumbou, because without their ongoing love, help and support on many levels, I wouldn't have been able to come this far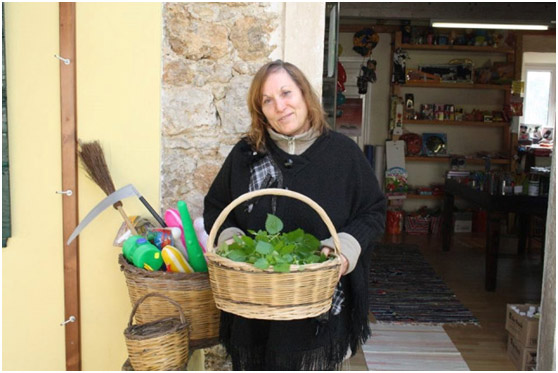 Maria Faita in her bookshop in Korakiana, where we have spent hours and hours trying to shape this work.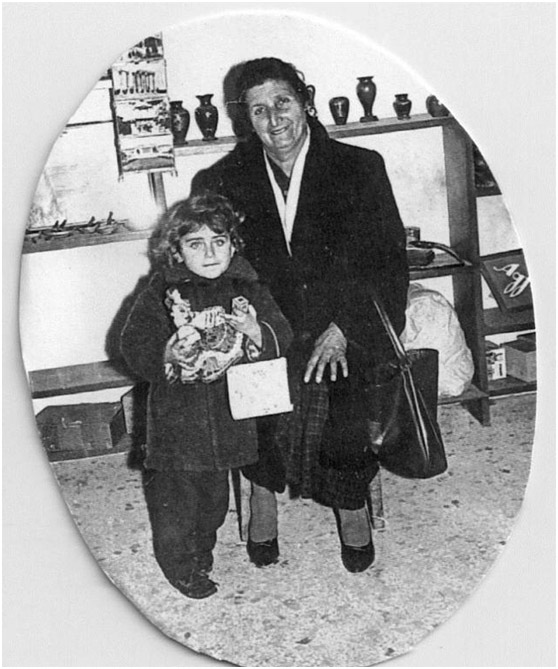 Eleni Zoumbou with her nona (grandmother). Every one of these nonas (mine included) was a whole universe in a person. A whole world who, when they passed away, stopped manifesting in the earthly realm but continue living through the impact they had in shaping the future generation's lives.